Welcome to Ozark Quality Kitchens
Business Hours:
Monday-Friday: 8:00am-4:00pm
Saturday & Sunday: Closed
Also Available by Appointment
Ozarks Quality Kitchens is a family owned and operated custom cabinetry company run by the father/son team of Joel and Fred Yoder. Our business started in Salem Missouri in 2004, though we moved to Cuba Missouri in 2018. However, our experience goes all the way back into the 90's. Through the years we've become experts at crafting beautiful yet hard-working countertops, cabinets, and kitchens in general.
Joel and Fred are skilled carpenters able to handle many types of tasks, though their specialty is in kitchen cabinets. Thanks to them, we offer Complete Kitchen Packages, which include all the cabinets (in your choice of oak, cherry, maple, or hickory) and countertops (choose quartz, granite, or laminate) you'll need for a new or remodeled kitchen for one price. In addition, we can install your new kitchen package quickly and professionally.
Call (573) 729-7333 Today For Your Free Consultation!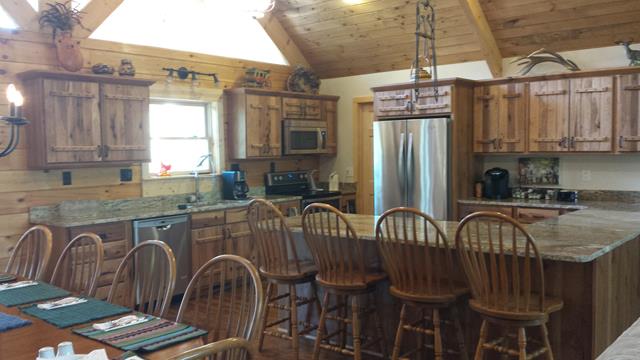 Ozarks Quality Kitchens' Products:
Custom Kitchen Cabinets
Planning Centers
Bathroom Vanities
Bookcases
Fireplace Surrounds
Entertainment Centers
Choice of Countertop material: Laminate, Quartz, Granite
Variety of Stained Finishes Available
---

Ozark Quality Kitchens uses only the highest-quality materials. When it comes to countertops, that means we prefer to use Cambria Quartz.
Quartz stone is one of the hardest surfaces found in nature, which means countertops made of this material are as tough and long-lasting as they are beautiful. They're also extremely low maintenance, making them a great choice for everyone that doesn't love constant scrubbing and polishing.
Cambria is only available through dealers — which means you won't find it at home centers like Lowes and Home Depo. If you're looking for an attractive yet durable substance to make your kitchen or bathroom look great, ask Joel or Fred about Cambria Quartz countertops- you'll be glad you did for years to come!
Serving the following areas in Missouri:
Cuba, Rolla, Licking, Houston, St. James, Salem, Sullivan, St. Robert, Waynesville, and Owensville